Virus safety is one of the top concerns of biopharmaceuticals and pharmaceutical manufacturers. It needs to select clean raw materials, test and remove viruses in various production steps. Removal is the only way to prevent contamination by accidental viruses, so a reliable removal process with proper verification is essential to ensure patient safety. Alfa Chemistry can provide virus removal verification services to support biopharmaceutical companies to successfully remove viruses.
Our service provides virus spike research for purification technology, as well as expert consultation on process design and optimization. This enables biopharmaceutical manufacturers to optimize their processes and increase the potential for successful completion of GLP studies.
Why Is Virus Clearance Research So Important?
Every virus safety strategy is based on three pillars: selection of appropriate raw materials, testing of intermediate samples during production, and removal/inactivation of viral contaminants. The latter is verified by virus removal studies, which is an important part of the manufacturer's strategy to ensure product safety.
The ultimate goal of clearing the virus is patient safety. In the worst case, the consequences of virus contamination may occur.
Virus Clearance is a regulatory requirement to ensure patient safety. To ensure that the manufacturer's purification process can cope with unexpected situations, regulatory agencies implement three basic principles of virus safety: selection, testing, and reduction.
Virus clearance methods require personalized, scalable, and flexible process solutions based on different technology platforms. Our unique orthogonal virus clearance technology is characterized by virus retention filtration and membrane chromatography to clear viruses, as well as low pH virus inactivation.
How Is a Virus Clearance Validation Study Structured?
Virus clearance research can be subdivided into three stages: pre-research, main research, and report. During the cleanup study, we deliberately incorporated the purified virus stock into the starting material of the unit operation. It is necessary to select a reduced manufacturing environment model that meets the customer's process conditions.
Five basic steps of virus clearance verification research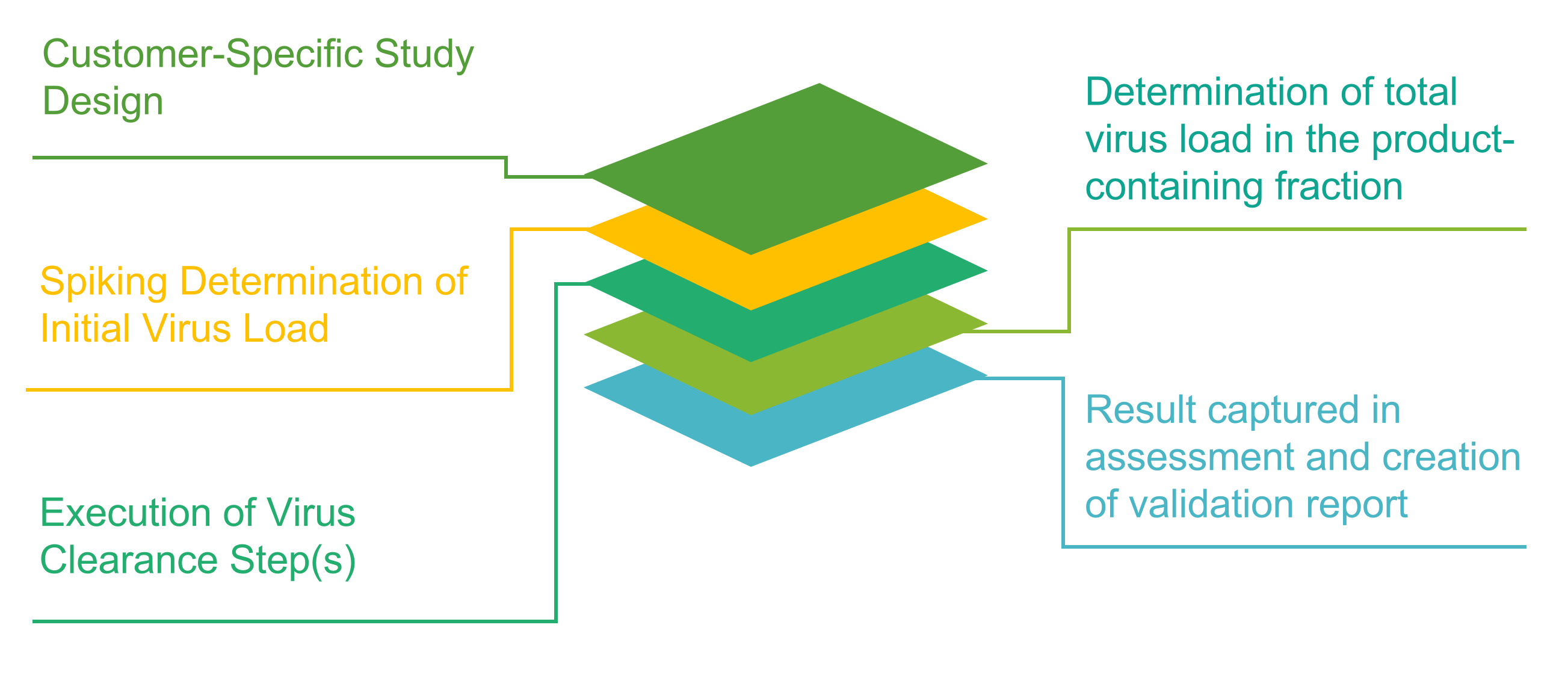 According to customer requirements, research will be planned and designed
Customer product spike determination of the total viral load in the starting material
Perform a scaled-down virus removal step(s) for sample analysis
Determine the total viral load in the part containing the product and therefore calculate the log reduction
Results captured in the evaluation and creation of the verification report
How We Help You to Succeed
Our virus clearance service is unique to this industry. Alfa Chemistry's expertise covers virus clearance services and our specific clearance technology so that it can provide customers with total solutions. Our services are usually combined with virus clearance service packages, such as virus filters and membrane adsorbers. In addition, our service also supports resin and low pH purification steps. These subsequent processes may vary greatly, so we recommend that you contact us for a quote. The advantages of our virus clearance verification service are as follows:
Turnaround time is as short as 6 weeks
Highly purified virus stock
LRV determination of all virus removal steps
Optimal use of removal products
Rich joint team experience and multiple completed studies